Puerto Rico was our first test—the trip that would help us determine whether or not we could continue our wandering workers lifestyle with a kid. We've done a lot of shorter trips, but this was bigger. We were staying longer, and pushing both the time zone and our daughter's tolerance for new places.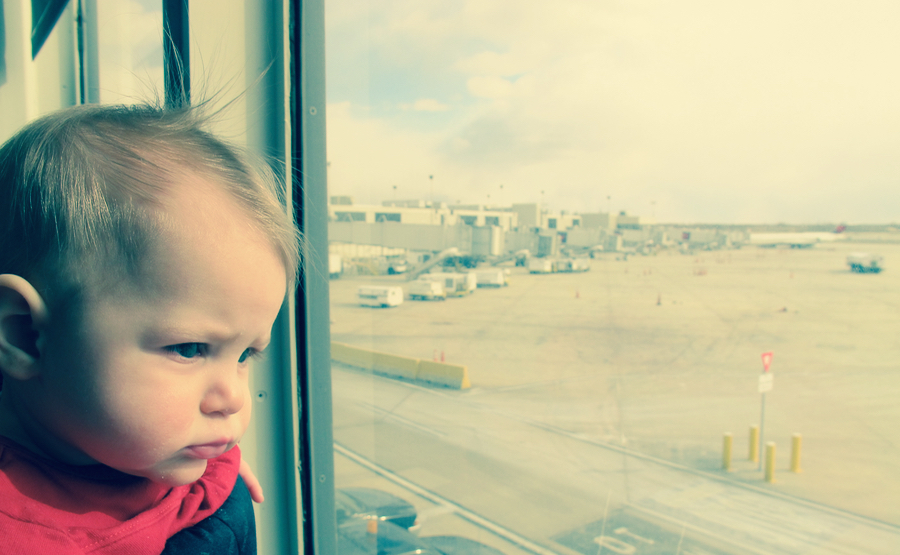 As with any trip, we figured there would be moments when we'd think, "This is it; we're doing it." But we also expected there to be moments when we'd wonder what exactly IT was we were doing. There is always middle ground, though, and that's what we were hoping to find.
To get there, we had to settle in first. It was in those first few days that I noticed things like peeling paint, splintered doors that Sam liked to tug at, and holes in the screens where Zika-carrying mosquitos could get in. My first thought was, "This is where we brought our 8-month old daughter to live?"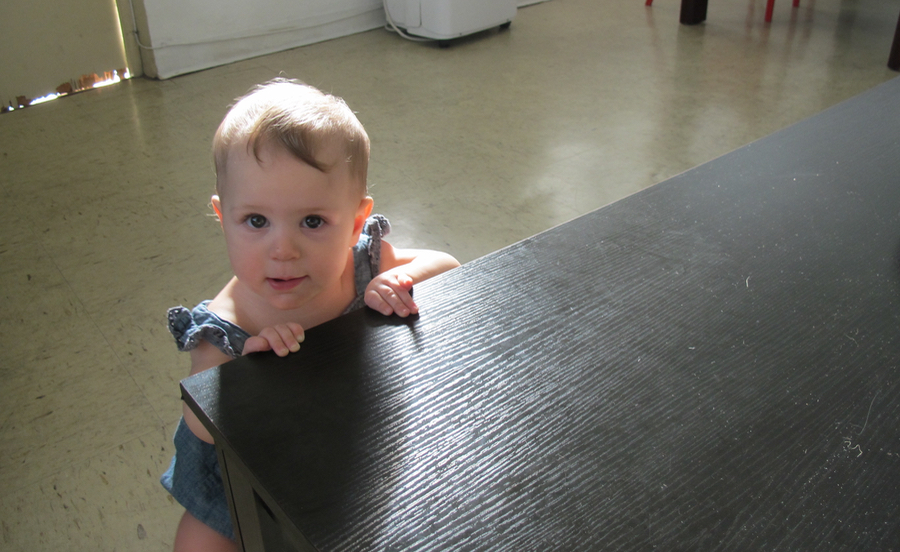 It was also in those first few days that we realized just how much time we would have to spend inside. We finish work at 5 p.m. and Sam goes to bed at 6, which doesn't leave a lot of time to explore during the week. After dinner on the first night, Jordan turned to me and said, "I guess Puerto Rico is where we watch Netflix now."
When we did get out of the apartment, however, we were in an ideal spot. Our neighborhood, Santurce, is what people call "the Brooklyn of San Juan." The Brooklyn of 20 years ago, that is. The neighborhood is sprinkled with hipster cafes, abandoned buildings, broken glass, and art studios. It's the perfect mix of art and grit.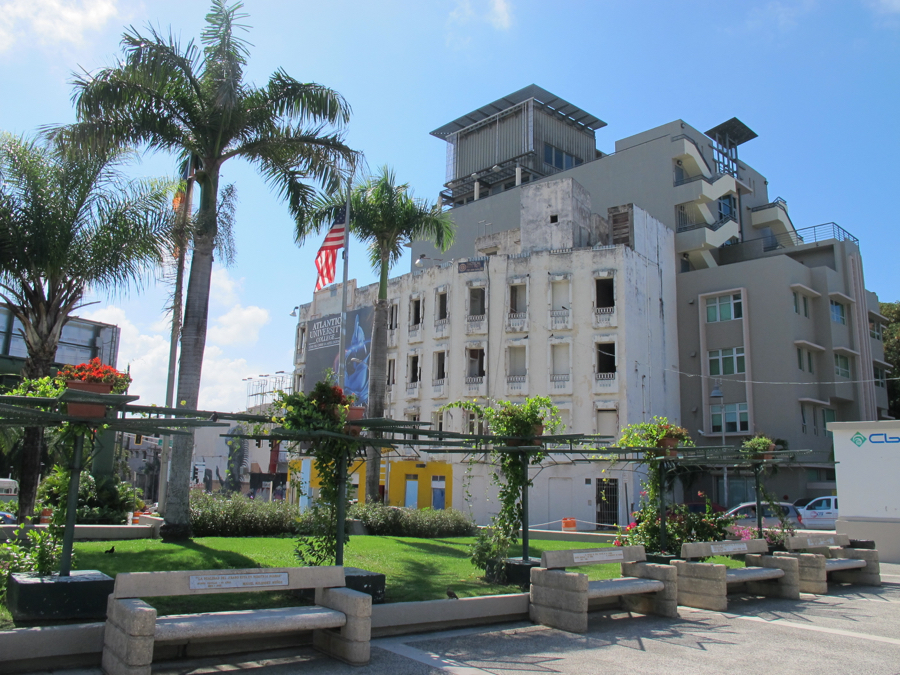 I loved the juxtaposition of old and new. Sam liked the people. She waved at everyone who passed and they, in turn, offered blessings—a gesture I came to love. On our first day we stopped at a cafe for coffee, which is always a grounding ritual. Sam soaked in everything around her—the sound of Spanish, Mallorca toast, the foam on Jordan's lip. This was a "we're doing it" moment.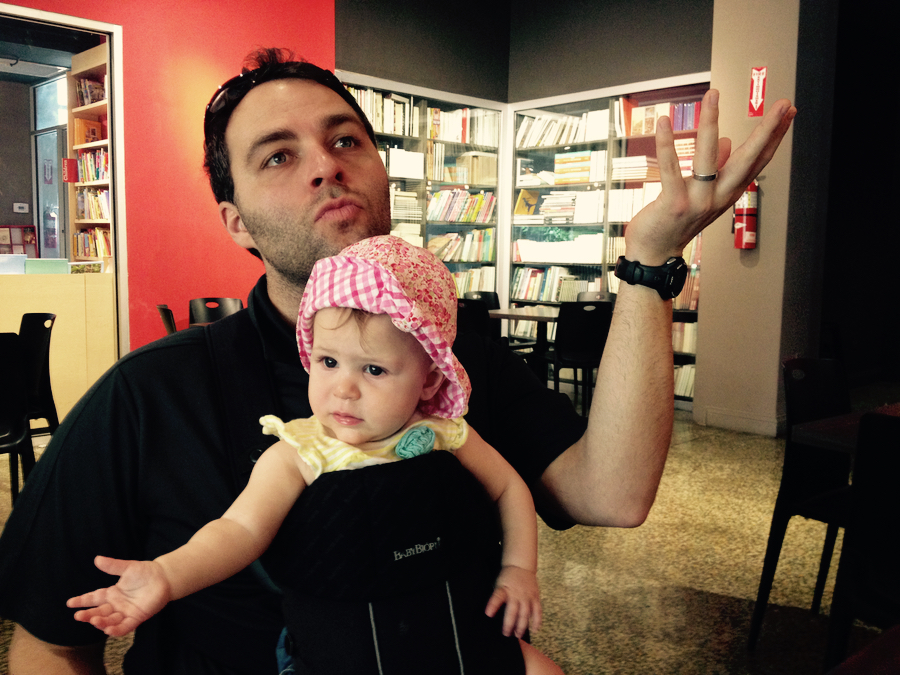 Later that day, we met up with a friend who got us out of the apartment and helped orient us to our larger surroundings. It was our first look at San Juan from a local's perspective. We sat on the plaza eating mofongo, sipping mojitos, and listening to her talk about all the places we needed to go. She told us to eat at La Casita Blanca, explore Camuy Cave, and Fly to Vieques. She is proud of her home. In fact, during the time I got to know her, she became the perfect representation of her island: welcoming, gracious, and excited to show us around. Mostly, though, it seemed like both she, and the island, were at peace. "If I could tap into that peace," I thought, "that would be my middle ground."
That night we went back to our run-down apartment, cooked dinner on a hot plate and sank into the worn couches to watch Netflix while Sam slept.
In those first 24 hours, I swung back and forth between, "What are we doing?" and "Of course we can do this." Over time, however, the pendulum swings got smaller. We did spend more time inside our apartment than we normally would in a new place, but we also did nearly everything that Maria recommended, and more.
Sam got to hear the rain fall in El Yunque and listen to the coqui frog call. She also got to eat fresh papaya and swim in the Caribbean. I figured that at this age, she might not remember much, but that we could at least set the stage for a life of exploration.
In the end I discovered that working and traveling with a baby is not that different from the highs and lows of doing it without a baby. The worries and rewards take on different forms but they are, at their core, the same now as they were then. We might worry for three, but the joys, too, are compounded.
Whenever I travel, regardless of whom I travel with or where I go, there are always times I wonder what I'm doing. But there are other times, when all the planning and settling in and reading and researching are done, and I'm finally sitting on a hill, looking out over a new place, breathing new air, hearing new sounds and a peace washes over me reaffirming the reasons I travel.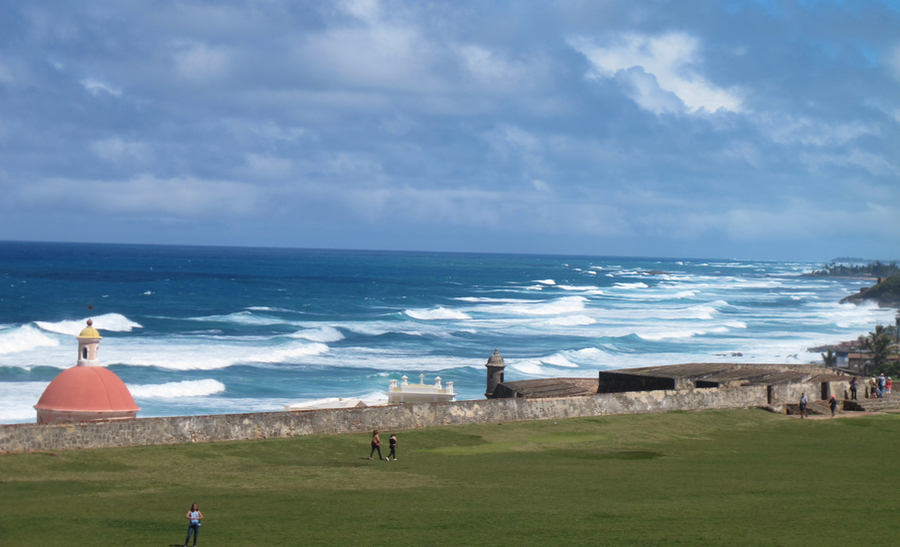 I did have these types of moments in Puerto Rico, but I also wanted to know that our trip impacted Sam in a positive way. Did Puerto Rico leave an impression on her like it did on us? I didn't expect to have an answer to this question, but she surprised me.
When we got home, I looked up a few children's songs in Spanish so that I could continue to expose her to the language even in a small way. I chose one that's about how cute and small her hands are. When I sang it to her, she lifted her hands and started twisting them in rhythm with the words.
It turns out that her nanny taught her that song. It made me realize that she did in fact have her own experiences there. She formed her own memories and took something home that was her own.
I derive a lot of peace from knowing that.