It was 10 minutes before boarding time and I was covered in poo.
Up until that point we'd been feeling pretty good about ourselves, and our ability to manage a big travel day with a baby. Free passes to the United Club fed that delusion making our 5-hour layover in Philly pass quickly.
It's when we left the safe haven of free food and drinks and access to a quiet bathroom that things started to go awry. We stopped by the kid's play area giving Sam enough time to drag herself along the floor and cover herself in a hefty layer of dirt. Then we realized that she hadn't eaten that well and we should find a quiet place for her to have a distraction-free meal.
That's how I found myself sitting in a Minute Suite* with Sam on my lap. The lights were off to minimize distractions and I was thinking about how lovely this mini hotel room was. It was just large enough to hold the necessities for a stranded traveler—a couch that was wide enough for sleeping, a desk, and a TV. There was also a place to hang your jacket and a mirror on the wall.
We had 20 minutes before we were supposed to board our flight so I figured we'd do a 10-minute feeding and then head to the gate. It wasn't until I stood up to turn on the lights that I felt the explosion. She didn't make any sounds to give away the fact that she just had a blowout so I'm not even sure exactly when it happened. But when I flipped on the light, there it was, poo everywhere—down my pant leg, on my shirt, all over Sam's back and head, and of course on the couch and floor of the suite.
It was in the same moment that I was taking that in that I realized I didn't bring any of her supplies into the suite with me. Jordan was waiting for us out by the front desk with the stroller and changing supplies. And for everything the suite had, there were no tissues and no garbage can.
With Sam still in my arms, I peeked out of the room, not wanting to draw attention to myself but hoping I could get a visual on Jordan. Nothing. I went back inside and stood frozen in the middle of the room. I paced back and forth between the door and the middle of the suite—it was two steps in either direction so I was basically turning in circles, unable to make a move. Anything I did would make the situation worse.
Finally, Jordan passed by the hall and I was able to flag him down. Even with two people, though, a mess like this is not easy to clean up, especially when you only have five minutes until boarding time.
As we stripped Sam and wiped her down I realized I would probably not have time to tend to myself but that was the least of my worries. We had no backup clothes, no plastic bags, no garbage can, and just a couple of wet wipes left. Jordan folded as much crap into the dirty diaper as he could and went to the front desk to look for a plastic bag. The attendant was nowhere in sight so he stepped behind the desk, opened drawers, and tried to find anything that would help. Nothing. He tossed the stinky diaper in the garbage can under the desk and came back for us. We snuck out before she returned. Luckily the couch and floor were easy to clean so I don't feel too bad about the room, but I do feel bad that when the attendant returned it would probably take her a while to figure out were the awful stench was coming from.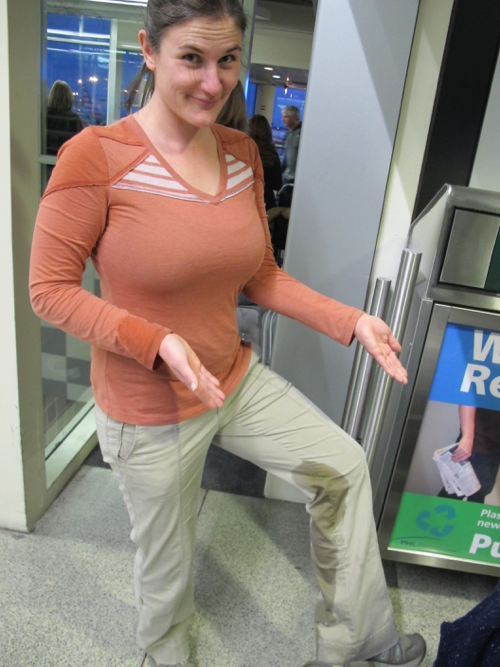 We got to the gate in time to board, but after an hour of maintenance updates, they de-boarded us to wait for another plane. Hurry up and wait is the name of the game. The extra time at the gate gave me the chance to clean up a little bit but there's only so much you can do with hand soap and paper towels. The bigger concern was trying to get Sam to fall asleep and stay asleep against the excitement of a travel day.
Me in my poo-stained pants did everything in my power to create a serene bubble of sleep for Sam. We didn't get to our destination until two in the morning but the plane ride wasn't so bad in the end. Eventually we both fell asleep on Jordan.
I'm tempted to say "that's parenting" but really, that's life, or better yet, that's travel. Just when you start to feel confident, like it's another normal day at the airport, you're hit with a much more interesting story to tell.
*Minute Suites offer 30 minutes free use for breastfeeding moms.