It's not the easiest place to get to—it wouldn't be a detour if it were—but Mackinac Island is worth the extra travel time. Tucked away in Northern Michigan, not far from the Canadian border, this summer retreat delivers for those who make the effort to get there. We'd wanted to check it out for a while and a summer wedding proved just the right excuse to go.
We know it best for its renowned race, "The Mac," which is the longest freshwater sailing race in the world. Every summer more than 300 boats, with nearly 3,000 crew members on board, race from the Chicago Yacht Club to Mackinac Island. At the end of the race, the island harbor is so overrun with masts that you have no hope of getting out until the party breaks up.
The race draws countrywide attention, but that's not the most interesting thing about Mackinac Island. The ban on motor vehicles is what makes it such a magical place. Horse-drawn carriages have the right of way in the streets. Even bikes must yield to horses. And these modes of transport work well on a 3.8 square mile island where you can ride around the perimeter in a matter of hours.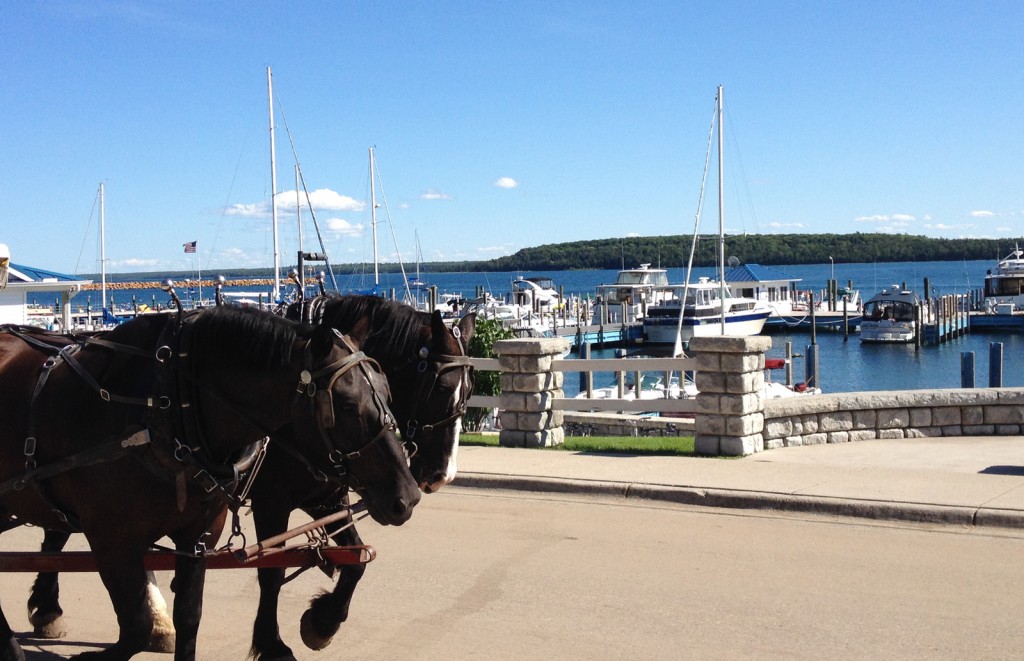 If you do bike the trail, it pays to go slow. More than 80 percent of the island is protected as a state park and thus offers quite the view—Lake Huron on one side and lush greenery on the other.
While our fellow wedding guests biked the loop, we settled in at the park across from Mission Point Resort. With an unobstructed view of the Great Lake, we lounged in the grass, played with our three-month old, and watched fellow picnickers throw Frisbees and fly kites. Short of the hoop skirts and top hats, it felt like a good old-fashioned turn-of-the-century picnic.

Back in town the sidewalks bubble with activity. The main strip is lined with Victorian-style hotel fronts and old-time fudge shops, an island specialty. I can't say we tried them all—there's only so much fudge you can eat before the stomachache settles in—but we were particularly drawn to Murdick's, which is proud to use the oldest recipe on the block.
We started and ended the day in much the same way—with food, drinks, and friends. The party started at the Mackinac Island Yacht Club and wrapped up on the deck overlooking the water at the Pink Pony.
Among the wedding guests was fellow travel blogger from Ashley Abroad. While Jordan and I opted for slow walks to soak in the atmosphere, she got busy taking advantage of all the activities the island has to offer. Check out her post to find out what you should do on Mackinac Island if you only have one day.